Rice exports in first quarter were worth US$785 million, 76.2 percent up from a year ago, the Ministry of Agriculture and Rural Development said March 26.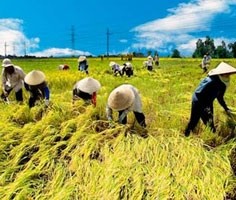 Farmers harvest rice in the Mekong Delta
Over 1.74 million tons were shipped, 71 percent higher than last year's period.
In March alone 700,000 tons were exported for $315 million.
According to the Vietnam Food Association, prices have risen slightly in March. The FOB price for a ton of rice, including 5 percent broken, edged up to $435-460 though 25 percent broken remains at $400-410.
The Government has set an export target for the whole year of 4.5 to 5 million tons but companies have registered to export 3.6 million tons in just the first six months.
The Ministry of Agriculture and Rural Development has estimated that the Mekong Delta's 2008-09 winter-spring crop will yield 9.6--9.8 million tons.