Vietnam exported only 380,000 tons of rice in June, down nearly 40 percent over the same period last year, reported the Vietnam Food Association (VFA).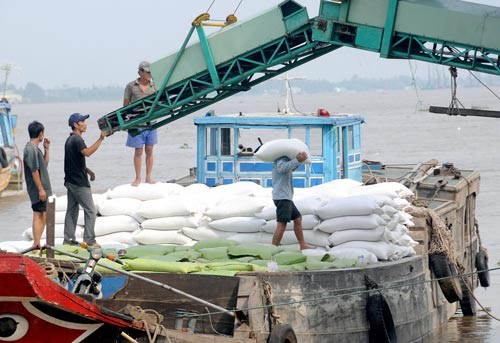 Export rice bags are loaded on the boat in the Hau River, the Mekong Delta (Photo: SGGP)
The export volume reached 2.66 million tons worth US$1.20 billion in the first six months of 2016, a year on year reduction of 11 percent in volume and 6.9 percent in value.
 
China which is the largest rice export market of Vietnam posted a significant reduction to 912,076 tons worth US$420 million, falling 13.1 percent in volume and 11 percent in value. Similarly, the export volume to the Philippines dropped 45 percent to 193,435 tons.
 Rice export has been reduced in recent months because of drought and salt intrusion and severer competition in the world market.
 
The down trend is forecast to continue in the upcoming time as the Thai Ministry of Commerce will open for sale 3.7 million tons of rice in stock on July 25  while Vietnam's large markets such as Indonesia and the Philippines have announced no hurry to import rice.
 
The above difficulties have forced VFA to lower the rice export target of 2016 to 5.65 million tons from 6.5 million tons.