Exports of rice in 2014 weighed to 637,000 tons worth US $314.5 million, a decrease of 13.5 percent in volume and 6 percent in value since the same period last year.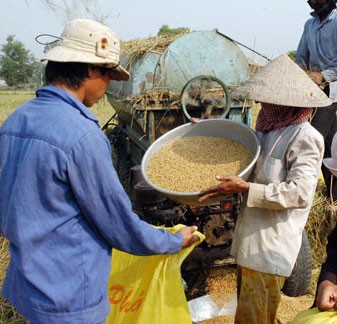 Rice harvest in the Mekong Delta (Photo: SGGP)
Prices dropped an average of US $14.20 per ton, according o the Vietnam Food Association. Price of broken rice reduced from US$405 per ton to US $380 per ton in February 2014. This rate is currently lower than domestic prices.

The country's main export is the Philippines with contracts since November 2013.

Domestic price is expected to reduce during spring peak harvest and after shipments to the Philippines are completed. The abundant amount of Thai rice imports also puts pressure on Vietnamese rice prices.