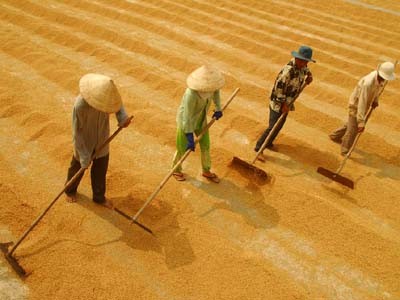 Farmers dry paddies after harvesting.
The Vietnam Food Association said the country exported more than 6 million tons of rice in 2009, a 28 percent year on year increase and 20-year high.
Rice exports exceeded 1 million more tons than planned and topped US$2.4 billion, it said.
Vietnam's current main markets are Indonesia, Philippines, Cuba, and Iraq.
Mekong Delta provinces have now started to harvest the autumn-winter crop with paddy prices around VND5,800-5,900 a kilo.
The cost of premium rice now stands at VND7,550-7,650 a kilo, while second grade rice costs VND7,350-7,450 a kilo.