The first two months of 2009 have seen rice exports increase in both quantity and revenue, twice as much compared to the same period last year. However, total exports are likely to reach only $8 billion, down five percent compared to last year, according to the Ministry of Planning and Investment.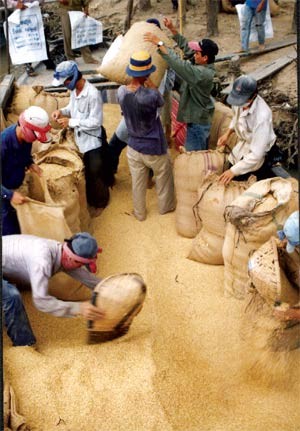 Vietnam expects to export 4.5-5m tons of rice this year.
Vietnam exported more than 1 million tons of rice in January, worth $479 million, said Ministry of Agriculture and Rural Development on February 27.
Total rice exports in February were 750,000 tons with a turnover of $350 million.
In the first two months, Vietnam exported rice mainly to the Philippines, Iraq, Cuba and the African countries of Ghana, Cameroon and Senegal.
It is expected that the quantity of rice will reach 4.5 – 5 million tons rice in 2009.
In the same period many other products decreased in export.
The cut in exports stems from a price slump for Vietnam's staples on the world market, as well as shrinking markets due to the global economic crunch. Major markets, such as the US, EU, ASEAN area, and Japan have reduced orders by more than 20 percent.
Vietnam is expected to enjoy a trade surplus of about $295 million in the first two months of 2009, 3.7 percent of the country's total exports. However, a dramatic decline in imports critical to domestic production may cause severe difficulties for the Vietnamese economy.