Rice farming area has exceeded plan resulting in supply redundancy and low price while breeding industry has depended on import materials causing high-cost feed products to plague breeders. Therefore, experts have said that rice area should be reduced to make room for livestock feed material production, especially corn.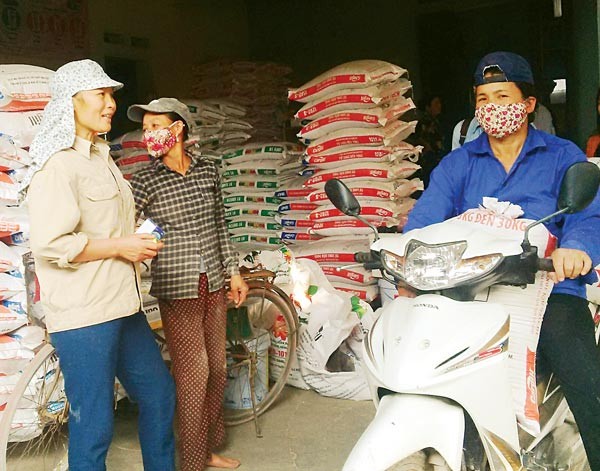 An animal feed shop in the northern province of Hai Duong (Photo: SGGP)
Millions of breeders have purchased import feed products at high prices for the last several years because Vietnam's breeding industry has depended on import materials. Breeding is among the weakest industries nearly without export products.
Latest data from the General Department of Vietnam Customs shows that Vietnam spent US$3 billion on import feed last year. Maize import hit a record high output of 3.72 million tons and turnover of US$744 million in the first six months this year.
The Ministry of Agriculture and Rural Development reported that Vietnam yielded US$2.95 billion from rice exports but spent up to US$3 billion on livestock feed and material imports every year. It touched US$4 billion if calculating maize, soybean and wheat.
Experts said that Vietnam had the advantage in rice farming but disadvantage in feed material production.
American feed provider Bunge Group predicted that Vietnam's import demand on maize has increased to 3.5-4 million tons a year. Besides, the country has imported nearly 950,000 tons of soybeans worth US$438 million. It is expected to continue increasing in the upcoming time due to hot and muggy weather.
According to chairman of the Vietnam Animal Feed Association Le Ba Lich, Vietnam needs 12.5 million tons of livestock feed annually but imports up to 9-10 million tons of materials for production.
He has proposed the Government to reconsider of the plan on livestock feed material production, rebalance farming areas between rice and corn--the main feed material.
Deputy Head of the Department of Livestock Production Nguyen Xuan Duong said that feed accounted for 70 percent of breeding product prices while the breeding industry has been conditional on import materials. Therefore any fluctuation in the Vietnamese dong to US dollar exchange rate has greatly affected local breeding industry and food market.
In addition, the agricultural industry has been forced to tighten management over feed quality as the high import demand has unleashed low quality materials to enter domestic market, he added.
Minister Cao Duc Phat said it unacceptable that Vietnam's feed prices are 15-20 percent higher than that in Thailand and other nations in the world.
Feed material farming development would reduce the dependence and help farmers lower cost prices to improve competitiveness and profit, he said.
In the breeding development strategy by 2020, the ministry targets to develop breeding into a main production industry, accounting for 42 percent of agricultural value structure, he added.
Experts said that in order to obtain the target, the ministry should set up policies, aiming to build and develop feed material source right now.