Rice continues to fall in the Mekong Delta while the Government's rice stockpiling program has been implemented too slowly.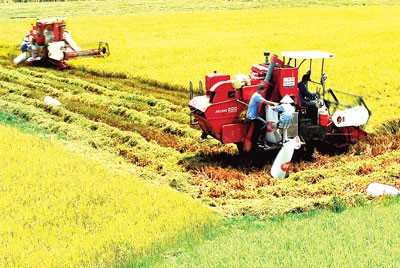 Farmers harvest rice on a large scale paddy field in the Mekong Delta (Photo: SGGP)
The price of fresh rice has dropped to only VND4,100-4,200 a kilogram in the last two days. These rates inconsiderably profit farmers.
The Mekong Delta has harvested more than 1.2 million out of 1.6 million hectares of winter spring rice. Farmers are rushing to reap the rest ripen rice fields.
Meantime, traders have slowed purchase and the Government program to stockpile one million tons of rice in the delta has run behind schedule to complete only 35 percent of the planned goal.
Businesses export 583,249 tons of rice worth US$256 million in March, according to the Vietnam Food Association.
The total export volume topped 1.22 million tons yielding nearly US$530 million in revenue since early this year.