Ever since the Government rice stockpiling program ended, the price of paddy in the Mekong Delta provinces has fallen by VND 200-500 per kilogram compared to the beginning of August.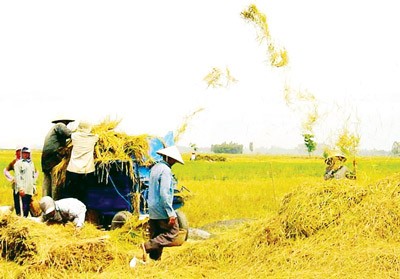 Farmers harvest rice in the Mekong Delta. (Photo: SGGP)
In Can Tho City and neighboring provinces, traders bought fresh low-grade paddy IR 50404 at VND 4,000-4,200 per kilo. The price of fresh long-grain paddy varieties, such as OM 6976, OM 2517, and OM5451, also dropped from VND 4,800-5,000 per kilo to VND 4,500-4,700 per kilo.
According to experts, domestic paddy price dropped due to a decrease in rice export price. In addition, as firms no longer received preferential interest rates from banks, they could not continue to buy local rice at high prices any more.
After a brief surge, rice export price has gone down in the past two weeks. Currently, 5-percent-broken rice was sold at US$ 385-395 per ton, down from US$ 405-415 per ton at the beginning of August. 25-percent-broken rice also declined by US$ 15 per ton to US$ 350-360 per ton.
Vietnam Food Association recently sent a letter to Prime Minister Nguyen Tan Dung and relevant ministries, asking for purchase of 300,000 tons of late summer-autumn and autumn-winter crops for stockpiling from September 15 to October 16 and preferential interest rates for firms participating in purchase for two months, starting from September 15.