The price of summer-autumn un-husked rice in the Mekong Delta region saw a drop of VND200-300 per kilogram on May 23 compared to early last week.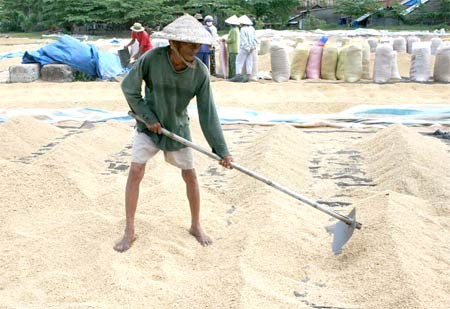 Farmers in the Mekong Delta dry unhusked rice (Photo: SGGP)
A kilogram of fresh un-husked rice traded at VND4, 700-4,900 in Binh Minh, Tam Binh and Tra On districts of Vinh Long Province, while a kilogram of dry un-husked rice cost VND5, 600-5,800.
The price of winter-spring rice saw a drop as well at the Thot Not wholesale rice market in Can Tho City and Vinh Long Province.
The winter-spring rice price fell slightly to VND7, 800-7,900 per kilogram, down by VND50-100 per kilogram.
Enterprises and rice mills have bought un-husked rice and polished rice very hesitantly because they already have a surplus stock for sale.