Rice prices in the Mekong Delta have fallen sharply over the last few days, slowing down trade activities in the region.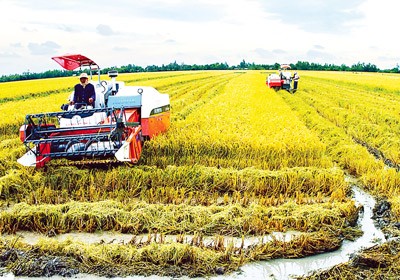 Harvesting rice in the Mekong Delta (Photo: SGGP)
Lieu Phuong, a rice trader in the delta region, said that on Sunday the price of unhusked rice had reduced by VND300-400 a kilogram.
A kilogram of IR50404 now fetches only VND4,700-5,100 and the long grain and glutinous rice variety around VND5,400-5,500.
Husked rice price also plunged VND300 a kilogram at the Cai Rang Market in Can Tho City and in Sa Dec town of Dong Thap Province.
Specifically, IR50404 rice variety has fallen down to VND6,800-7,100 a kilogram while a kilogram of long grain rice now fetches VND7,000-7,300.
Fall in rice prices have affected trade activities, with farmers unwilling to sell in anticipation of an increase in prices and rice processing plants reducing capacity or even stopping purchase of rice over the last few days.