Export rice prices have fallen by nine to 19 percent since the peak last November, the Information Center for Agriculture and Rural Development said recently.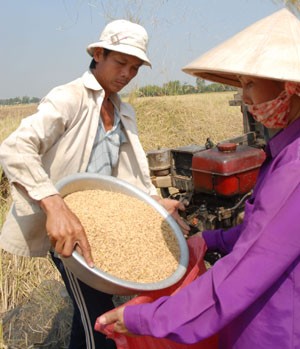 Harvesting rice in the Mekong Delta (Photo: SGGP)
The export price for five and 25 percent broken rice has reduced to US$405 and $375 a ton respectively.
The falling price of export rice price has also led to the reduction of rice prices in Mekong Delta provinces. Since the beginning of the week, rice fell steeply and now stands at VND4,100 to 4,300 a kilogram.
In related news, fertilizer costs in the Mekong Delta have also fallen, with prices dropping VND200 to 2,000 a kilogram over last month.
In Tien Giang, Vinh Long and Can Tho provinces, the price of urea and DAP fertilizers has fallen by VND200 and VND1,000, respectively, to stand at VND6,400 and VND7,700 a kilogram.
Prices have dropped due to large quantities of fertilizer being imported in the beginning of the summer-autumn crop and low demand.
The world fertilizer price has also reduced after months of increases.
Coffee growers, however, are seeing some good news after months of falling prices, with prices of coffee in the Central Highlands having risen in recent days.
Coffee has increased by VND1,300 to 1,400 a kilogram, and now stands at VND25,400.
This has come on the back of world coffee prices, which have increased to US$1,539 a ton.
Builders in the country are not reaping any caffeine benefits though, with high demand and low stocks having driven steel prices in Hanoi to rise by ten percent in one week.