According to the Ministry of Agriculture and Rural Development, due to increasing demands for rice from Asian and Africa countries, rice export prices are once again increasing and will reach a high level.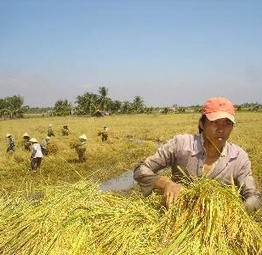 Farmers havest winter-spring crop in Mekong Delta.
The demands for Vietnam rice is due to country's lower prices compared to other countries.
Currently, companies that have signed export contracts to supply five percent broken rice at US$410 per ton, saw prices increase by $20 compared to the last two weeks.
Domestic rice prices are also  increasing, at around VND100 – 250 per kilogram more compared to the end of June.
Farmers are selling rice from winter-spring crops at VND4,200-4,300 per kilogram and summer-autumn crop rice at VND4,100 per kilo.