After rice prices plunged drastically in early October due to long lasting rains, prices have once again increased over the last few days in the Mekong Delta.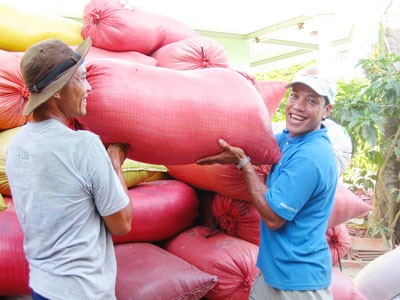 Rice prices have increased again in Mekong Delta (Photo: SGGP)
In early October rice prices had plunged to VND3,500-4,400 a kilogram, but on Monday, traders in Dong Thap, An Giang and Vinh Long Provinces paid VND5,800 a kilogram for normal rice variety and VND6,500 a kilogram for the fragrant variety.
Husked rice also went for VND7,700 a kilogram for 15 percent broken rice and 7,900 a kilogram for five percent broken rice.
Traders and export businesses said that the quality of autumn-winter rice crop this year was lower than in previous years, affected by long lasting rains which had either inundated or flattened several hectares of rice fields in the Mekong Delta.
The Vietnam Food Association said that in September export businesses delivered 749,480 tons of rice worth US$330 million.
The country exported more than 5.8 million tons of rice worth $2.6 billion in the first nine months of this year.