The rice price has slightly increased since February 20, the first day the Vietnam Food Association began to purchase one million tons of rice for stockpile.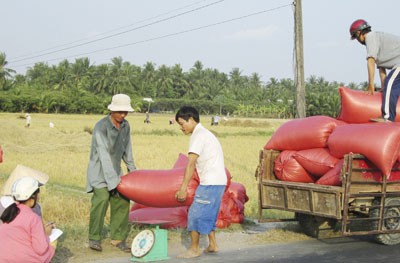 Farmers sell winter spring rice in the Mekong Delta (Photo: SGGP)
Along the road connecting Can Tho City and Vi Thanh Town in Hau Giang Province, several traders have come to pay VND4,200-4,300 a kilogram of fresh IR50404 rice, a low quality variety.
The price has hiked by 200-300 a kilogram to reach VND4,600 a kilogram of the same variety in Long Ho District, Vinh Long Province.
Dong Thap Province also sees the price go up by VND150-200 a kilogram. Local farmers have harvested 140,000 out of 208,000 hectares.
According to Duong Nghia Quoc, director of the provincial Department of Agriculture and Rural Development, the price is VND4,300-4,400 a kilogram of fresh IR50404 rice. The long-grain variety fetches VND4,600-4,900 a kilogram.
The dried rice price is VND5,100-5,200 for the IR50404 and VND5,400-5,600 for the long-grain variety, he added.