Domestic rice prices are likely to edge down tracking global prices and because of an increase in supply following the ongoing harvest of the winter-spring crop, the Ministry of Industry and Trade has forecast.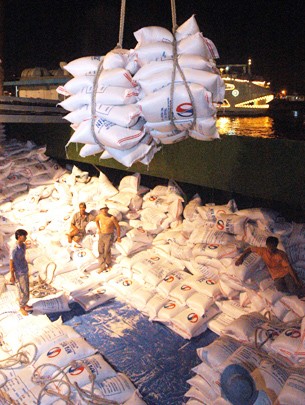 Vietnam is likely to export up to 6 million tons of rice or so this year
However, the Government has directed rice companies to step up purchases from farmers for export.
By the end of June, Vietnam had exported 3.8 million tons of rice for $1.8 billion, or an average of $470 per ton.
The country hopes to export six million tons this year, which will be much higher than the record of 5.3 million tons set in 2005.
According to Vietnam Food Association, the wholesale price of high-quality rice in the Mekong Delta is VND4,200-4,300 per kilogram.
Food companies signed export contracts in June for 5 percent broken rice at VND5,600, and for 15-25 percent broken rice at VND5,200–5,300.