Deputy Minister of Industry and Trade Nguyen Thanh Bien told a press conference November 28 that while domestic rice prices have recently increased, there would not be a dramatic hike like that of 2008.
There is also enough rice to meet domestic demand, deputy minister Bien said.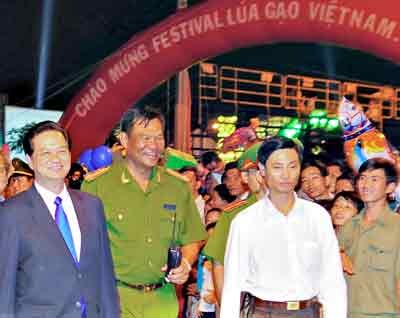 PM Nguyen Tan Dung ( L) attends the first ever rice festival in the Mekong Delta province of Hau Giang on November 28 ( Photo: SGGP)
Import-export companies have increased purchases for export as world demand has surged with little in the market, said the Chairman of the Vietnam Food Association (VFA), Truong Thanh Phong.

Fall-winter crops are being harvested but will be used to produce the next winter-spring crop. Prices have therefore increased in recent days.
Export prices of fall-winter crops surged by VND5,700-6,000 a kilogram and broken rice by VND9,200 per kilogram.

It is forecasted that export prices will also rise next month after Vietnam signs a contract to sell rice to the Philippines who require huge amounts after recent natural disasters.
The VFA has introduced measures to stabilize the market until the end of the year including raising public awareness about the problems of speculation. In addition, exporters are not allowed to sell or purchase in a manner that increases prices and hurts consumers.

The association will sell its rice stockpile when prices reach VND10,000 (O.45 $US)a kilogram with agreement from the government.
The press conference was held on the sideline of the Rice Festival organized by the ministries of Industry and Trade, Agriculture and Rural Development, VFA, and the Hau Giang People's Committee in the Mekong Delta province of Hau Giang.
The first rice festival to celebrate rice growers and the age-old farming tradition is holding in the Mekong Delta province of Hau Giang .
Addressing the festival, Prime Minister Nguyen Tan Dung said that the Mekong Delta is crucial to the nation's rice production industry as it turns out more than 50 percent of total rice paddy output and produces 90 percent of the country's rice.