The price of all kinds of rice in the Mekong Delta increased to between VND300 and 500 on Friday afternoon compared with the previous five days.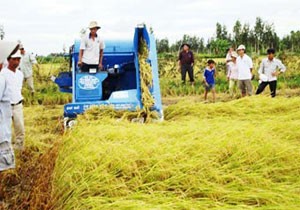 Farmers in Mekong Delta harvest the summer-fall rice crop (Photo: Can Tho newspaper)

A kilo of dried long-grain rice now costs VND3,900 to 4,200, while the price for aromatic rice and long unpolished rice ranges from VND 4,400 to 4,600 and VND5,200 to 5,400 a kilo respectively.
 
It is said that the Vietnam Food Association's recent instruction to purchase 500,000 tons of rice for export has pushed up the price. This week, traders have crowded to farming areas to buy lots of rice. 
 
Thanks to the current hike in rice prices, farmers in the delta are expected to reap a profit of VND4 million per hectare of rice.