As rice prices slip and local exporters are forced to offer low price, the Viet Nam Food Association (VFA), the State Bank of Viet Nam and many commercial banks jointly held a meeting on March 14 to discuss measures to keep rice prices high.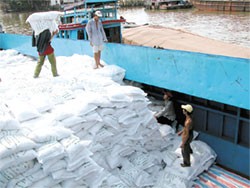 Workers of the Saigon Satake Rice milling factory are uploading rice for export.
The association will introduce sanctions against rice producers who offer heavily discounted price, as an anti-dumping measure. Also, the government is urged to inform the association before making loans to rice exporters or acknowledging them as prestigious rice enterprises.
Deputy Trade Minister Phan The Rue stressed at the meeting that the Government has predicted the decreasing of rice price and timely warned the farmers about the situation. This year won't witness an excess of rice supply over demand, he added.
According to Mr. Rue, the ministry will make recommendation to the government to purchase enough reserve rice for the national food security and for export. However, any producers who are caught selling their rice at a too low price could be prohibited from exporting their product, he said.
One of the important measures to keep rice price stable is to provide rice exporters capital to buy rice from farmers at the high price. According to the Industrial and Commercial Bank of Viet Nam, many banks have ear-marked enough money for loans for rice production this year. The banks are planning to loan VND4.4 trillion to rice enterprices in 2006, an increase from VND4 trillion in 2005.
Chairman of VFA Truong Thanh Phong said there will be no problem if the association is loaned enough money to purchase 500,000 tons of rice for reservation up to April. Thus, in May, we will have enough rice to export under many signed contracts, he explained.
However, in order to receive the loans, the VFA and its members must come up with their effective and safe production plans. Besides, loan receivers who spend the money on rice speculation will have their accounts cancelled, the banks said.
Currently, rice exporters' capital is still lower than required. They do not have a purchasing system. So they have to buy rice through middlemen, resulting in a risk of poor rice quality and cheap price. Besides, some entrepreneurs do not have any storage facilities for their rice.