Rice and seafood are the two main exports of Vietnam, raking billions of US dollars a year; however, rice farmers and seafood breeders remain at a disadvantage with unstable incomes caused by fluctuating prices.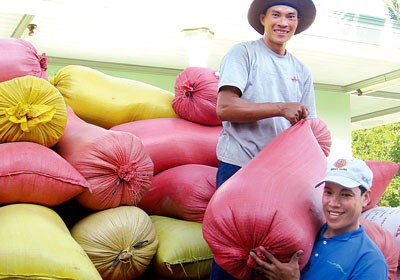 Rice sacks being carried to an export warehouse in the Mekong Delta (Photo: SGGP)
At the end of October, Vietnam was ranked the biggest rice exporter in the world. According to Vietnam Food Association, in the last ten months, rice exports of 6,484 million tons yielded US$2.9 billion in revenues.
From now until the end of December, another 1.1 million tons will be ready for export. As a result, Vietnam rice exports might reach 7.5-7.7 million tons this year.
These figures however do little to stabilize the income of rice growers, which remains relatively low and unstable--from constant fluctuation in prices. This has not helped in improving the average life of a farmer.
Huynh Van Ganh, director of the Department of Industry and Trade in Kien Giang Province, said that the procedures followed by the Vietnam Food Association for the export of rice had some serious flaws.
He said that rice exports should actually fall under the jurisdiction of the Ministry of Industry and Trade. For this the Government should set up a self-regulatory rice export association for the Mekong Delta in particular, the largest rice growing area in Vietnam.
Duong Nghia Quoc, director of the Department of Agriculture and Rural Development in Dong Thap Province, said that the Government must invest in facilities for drying and stocking of rice and come forward for purchasing rice at steady prices to ensure that farmers gain a sizeable profit.
When rice prices skyrocket in markets, the Government should permit businesses to auction stocks so as to benefit farmers. The Government should also assist cooperatives with loans to buy and stockpile rice for farmers.
Similar conditions should also be applied to the seafood industry. In the last ten months, export turnover from seafood exports touched $5 billion, cementing the country's position among the top 10 seafood exporters in the world.
Pangasius breeders are suffering losses of VND3,000-4,000 a kilogram and several have stopped breeding fish and switched to other means of livelihood.
Since 2011, shrimp breeders have had to deal with ongoing diseases in most of their seasonal crops, resulting in unforeseeable losses of tens of billions of dong.
Phan Kim Sa, deputy director of the Department of Industry and Trade in Dong Thap Province, said that the Government should set up strict regulations to determine floor prices, which businesses must adhere to, so that any sudden decrease in prices does not affect farmers.