A growing number of major tech firms are taking notice of an emerging market called Viet Nam, which joined the World Trade Organization on November 7.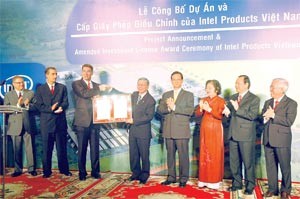 The men from Intel (on the left) receive the amended license at City Hall on November 10. (Photo: SGGP)
In February this year, Intel Corp, the world's largest chipmaker, unveiled plans to build a US$300 million chip assembly and testing plant in Saigon Hi-Tech Park on the outskirts of Ho Chi Minh City. Then on November 10, the US company received approval to increase its investment to US$1 billion.

This development was followed by an announcement last month that Intel's venture capital arm – Intel Capital – had teamed up with the Texas Pacific Group, also from the US, to buy a US$36.5 million stake in FPT, a leading information technology firm in Viet Nam.
Also in October, local fund manager VinaCapital and American capital firm Draper Fisher Jurvetson launched a joint US$50 million fund that will seek out growth opportunities in Viet Nam's IT and telecom sectors.
Viet Nam's IT industry is growing around 20% annually, one of the highest rates in the world, according to the International Data Group. And it's a very profitable sector, more so than most.
Saigon Hi-Tech Park, where Intel's factory is under construction, announced that the zone had already attracted US$1.25 billion in investment, including the chipmaker's contribution. Because of the strong demand for space, the hi-tech zone will be expanded by 613 hectares in the near future.
In line with the altered license, Intel will expand the Viet Nam facility from 150,000 square feet to 500,000 square feet (152,400 square meters), making it the company's largest assembly and testing plant in the world.
Its original plan was to invest in two phases totaling US$605 million. With the decision to expand, the two-stage idea has been shelved and production is now scheduled to begin in 2009 instead of the second half of 2007.
Once in operation, the plant will generate an estimated US$1.5-2 billion in export revenue a year.