The Samsung Engineering Co. Ltd. from the Republic of Korea has signed a contract worth over US$27 million on equipment purchase to increase the Phu My Nitrogenous Fertilizer Plant's annual capacity by 60,000 tons.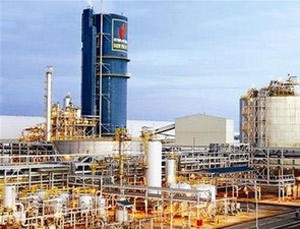 Phu My Fertilizer Plant
Under the deal with the Fertilizer and Petrochemical Corporation, the RoK company will install a CO2 collecting system for the Phu My plant.
CO2 will be collected from the smoke emitted by the Phu My plant itself, which will be then liquefied and mixed up with excess ammonia volumes to turn out nitrogenous fertilizer.
The entire production chain, with a design capacity of liquefying 240 tons of CO2 a day and a purification rate of 99 percent, will be imported from developed countries, especially the European Union and the Group of Seven, to meet the ASTM standards of the US .
The CO2 collecting technology is made by Mitsubishi Heavy Industries, Ltd of Japan .
The Phu My Plant CEO, Phan Dinh Duc, said the upgrade will increase his factory's capacity to 800,000 tons a year, making its ambitious target to become a leading fertilizer maker not only in Vietnam but also in Asia one step closer to reality.