Rolls-Royce, a leading provider of power systems and services, yesterday signed a memorandum of understanding with the Vietnam Shipbuilding Industry Corporation (Vinashin) in Ha Noi to promote cooperation in the fast-growing marine industry.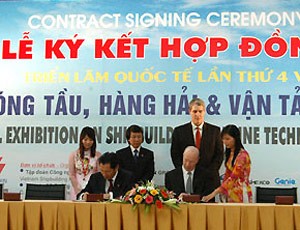 Rolls-Royce and Vinashin sign a memorandum of understanding yesterday to promote cooperation in the marine industry
The agreement provides a framework to establish a strong relationship between Rolls-Royce and Vinashin, according to John Paterson, Rolls-Royce president – marine.
"I am confident that this strategic partnership will help promote and develop the fast-growing marine industry in Viet Nam and also enable Rolls-Royce to expand its marine capabilities in Viet Nam and the region," he said.
The agreement also recognizes Vinashin's goal of enhancing both management and technical skills of its workforce by including the development of a training structure which will call on the technical expertise of Rolls-Royce.
The signing ceremony was attended by Paterson – President of Marine, Rolls-Royce and Pham Thanh Binh, Vinashin chairman and chief executive.
Rolls-Royce opened an office in Ha Noi on January 21. This is the company's first office in Viet Nam.
As the largest shipbuilder and industrial conglomerate in Viet Nam, Vinashin not only represents approximately 80 percent of domestic shipbuilding capacity, but also offers a diversified spectrum of products which includes ship repair, shipping and logistics, heavy industries, civil and offshore constructions, financial and research service.
With a corporate structure that currently oversees only a handful of its more than 200 subsidiaries and affiliates, including 30 shipyards, which employ a total of 60,000, Vinashin Group is by far among the most active industry player in Viet Nam and is also being considered a participant in the international market.