Since July rubber export prices have bounced back strongly after remaining low for long, the Vietnam Rubber Association said.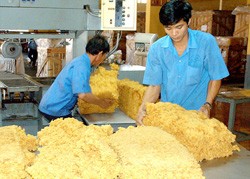 Workers at Long Thanh Rubbery Processing Factory in the southern province of Dong Nai. Rubber export prices have steadily increased since July (Photo: SGGP)
At the beginning of August, the price at the Mong Cai Border Gate in the northern province of Quang Ninh touched US$1700 a ton, $200 higher than in July and $450 higher than in June.
Nguyen Van Kien of the Mong Cai customs office said there are no rubber stocks at the border gate since Chinese traders have snapped up all of it.
In China's biggest city, Shanghai there is a shortage of rubber and many businesses from the city have come to Mong Cai to buy Vietnamese rubber.
The quantity of rubber sold daily at Mong Cai is 600 to 800 tons, and 1,000 tons on some days. In July it was just 300 to 400 tons.
Analysts attribute the price rise to an increase in global prices due to a shortage of rubber after output fell in rubber exporting countries like Thailand, Malaysia, Indonesia, India, and Vietnam.
Since July the Chinese Government has offered tax breaks to encourage businesses to import rubber.
Vietnam exports rubber to 61 countries though China buys up 67.5 percent of its total exports.
Investing in rubber farming
The Ministry of Agriculture and Rural Development said in the first seven months 316,000 tons were exported for $453 million.
It was 2.55 percent more in terms of volume over the same period of last year but 46 percent less in value.
Tran Thi Thuy Hoa, general secretary of the Vietnam Rubber Association, said farmers should invest more in rubber farming to meet export demand.
Besides, businesses should take advantage of the high prices to step up export.
But they should not sell large quantities at the border to prevent foreign traders from squeezing the price, she said.