Rumors have pushed up land prices in Hanoi recently, including areas with poor infrastructure and much pollution, such as Thanh Tri and Hoang Mai districts.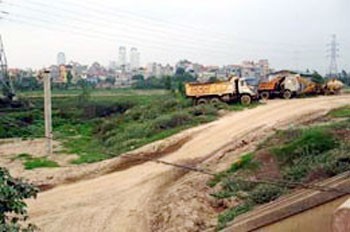 Rumors that Thanh Tri suburban district in Hanoi is to become a district have led land prices in the district to skyrocket (Photo: Vneconomy)
The rush to buy property has been caused by the news that some places, such as Tu Liem Suburban District, are to be separated into two districts – a legal distinction that requires areas with full district status to have higher development standards. However, the local authority had announced the plan three years ago, though it has yet to be implemented.
False rumors have also been spread that Thanh Tri Suburban District to be upgraded to a district and Van Dien Cemetery will be removed.
The land prices in Thanh Tri, considered the city's wastewater center combined with Van Dien Cemetery and other polluting industrial units, were previously much lower than other places in Hanoi.
However, since mid- September, land prices at Ngoc Hoi, Tu Hiep, Ngu Hiep, and Ta Thanh Oai Communes and Van Dien town have risen quickly.
Areas near Thanh Tri Bridge and Vinh Tuy Bridge and Linh Nam Ward in Hoang Mai District, have also seen an increase in people looking at land and property.
Some investors said that land price raise is a repetition of land price skyrocketing in 2007.
In addition, recent surges in stock prices and good growth in the economy have also contributed to heating the real estate market, some said.
Experts, however, warned investors to be careful with such information.
The deputy Minister of Construction, Nguyen Tran Nam, said that some investors are usually affected by rumors leading them to quickly invest but with little research and analysis carried out.
Whenever they hear that land prices in certain areas are "hot," they immediately rush to buy, he added.