For the first time, a sales promotion was held by the Center of Business Studies and Assistance (BSA) on March 8. Its aim was to help companies in Ho Chi Minh City sell their products in rural areas.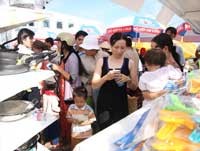 Residents are buying goods in Vinh Binh market, in Chau Thanh, An Giang Province
The program served as an opportunity to enhance competition and reduce bad quality goods and expand domestic consumption while the export market is falling.
Citizens ready to spend money on buying goods
Many trucks gathered in Long Xuyen town, An Giang Province at five am, then moved to Chau Thanh District. The trucks stopped on vacant land near Vinh Binh market in Chau Thanh, An Giang Province.
The companies offered 10-15 percent discounts on essential goods, such as cooking oil, washing-up liquid, clothes, food and gas cookers.
Many locals came to buy goods with most buying at least one product.
Some products are not sold in certain areas resulting in many people ready to spend large amounts of money.
With many products selling out quickly those arriving late had less choice.
Many spent over VND700,000 to buy goods.
Ho Van Rang, chairman of Chau Thanh district People's Committee, said the companies will have more turnover if they organize sale programs in April during the rice harvest, there will be more money because at the moment farmers need to save money to buy fertilizers.
The companies said they were satisfied with the number of buyers and turnover because their purpose was to popularize their products, turnover was not their main target.
According to the companies, consumer demand in rural areas is large while many companies have failed to satisfy those needs or studied how much can be made.
Businesses have yet to fulfill citizen demand
To understand demand, businesses surveyed goods that were sold in Vinh Binh market. Results showed that My Hao products hold 50 percent of the market, Tuong An cooking oil have 10 percent with many other famous brands not sold at all
Most stalls sold Nepture, Cai Lan cooking oil; many people had not heard of Tuong An.
The result also showed weakness in company distribution as well as behavior of some agents who only supply owners with what they want to give them not what the owners want to sell.
Currently 30 percent of retails shops have to source products themselves, with 50 percent of total goods coming from overseas.
Continuing the success
According to Nguyen Duy Thuan, consultant for BSA, to market and sell goods, companies must to spend large amounts of money and time to advertise their products.
Businesses must work out how to turn the success of the program into continual sales.

There are 600 suburban districts and 6,000 communes nationwide. To what extent have companies penetrated the rural market and the sizes of the distribution network are open to question.

With experiences from working in foreign corporations, Thuan said Vietnamese shoppers are easy to pitch to. They have a habit of looking at goods first then buying some time after. Companies need to clearly put their products on show.
Companies need to maintain supply, he added.
75 percent of the population lives in rural areas with 60 percent of GDP. There are 9,000 small and big market and nearly 500,000 shops in Vietnam. Two distribution companies handle 90 percent of the total volume of goods, Thuan said.
Companies need to spend more time developing the rural market and meet the demand of residents.