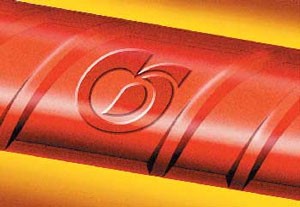 Almost 6,000 tons of Pomina steel (seen in the picture) was traded at the Sacom-STE exchange in the first day, Dec. 21
Sacombank Group officially opened its steel exchange in Ho Chi Minh City Monday, seeing almost 6,000 tons of the metal changing hands in the first trading session.
The exchange, which is called Sai Gon Thuong Tin Commodity Exchange (Sacom-STE) and started a trial run in early November, serves key commodities such as construction and industrial steel products. The minimum unit for trading is five tons.
In the launching day, Pomina Steel Company sold 5,300 tons of construction steel and 480 tons of industrial steel.
About 60 clients had registered for trading on the first day but only Pomina could make it. The others are waiting for quality verification by SGS Vietnam, a partner of Sacom-STE.
In addition to SGS Vietnam, other partners of Sacom-STE include FPT Software Solutions, IBM, HPT Company and L-H Transport Co. They provide technical support and transportation of commodities.
Sacom-STE director Phan Vu Hung said his exchange planned to open branches in the northern region soon. He added the facility would be expanded to include sugar by next June, and rubber and plastic products by the end of next year.
The operation of Sacom-STE would support the trading of steel products and help stabilize prices in Vietnam, according to Vietnam Steel Association chairman Pham Chi Cuong.