Sacombank has started its partnership with British life insurer Prudential Vietnam to provide life insurance policies to the bank's consumer loan customers.
Starting on July 20, the Ho Chi Minh City-based bank pays insurance premiums for the customers between 18- and 60 years-old. The bonus is considered the first of its kind in the Vietnam market.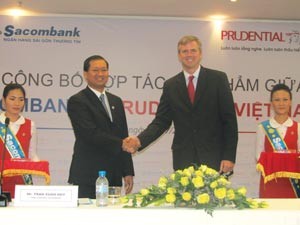 Sacombank CEO Tran Xuan Huy (L) and Prudential Vietnam CEO Jack Howell at a ceremony held to announce their partnership in HCM City on July 17
If the policyholder is unable to repay due to death or permanent disability, Prudential will repay the outstanding loan balance to the bank.
The consumer loan customers include those who borrow money to buy houses, cars and for other purchases.
The duration of the insurance policy will match the one of the loan.
Prudential Vietnam CEO Jack Howell says the cooperation would help both Sacombank and the life insurer develop their businesses.
In the first quarter of the year, Prudential Vietnam accounted for nearly a 40 percent market share of life insurance in terms of premium turnover, the largest in the country's life insurance market.
Sacombank, listed on the Ho Chi Minh Stock Exchange, offered 47.6 trillion in loans for the first half of the year, with consumer loans representing 25.6 percent. The bank operates a representative office in China, and a branch in Laos and Cambodia each.

Related article
Sacombank opens Phnom Penh branch