Sacombank, a leading banking group in Vietnam, said its estimated gross profit this year would be over VND1.9 trillion (more than US$102.8 million), much higher than its target of VND1.6 trillion.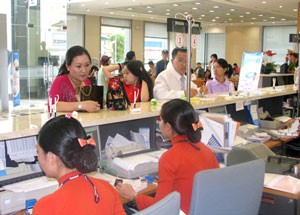 Customers at a Sacombank branch in Ho Chi Minh City
The Ho Chi Minh City-based bank said it planned to pay dividends of 15% (payments by shares).
According to Sacombank chairman Dang Van Thanh, the group's board has passed next year's gross profit target of VND2.61 trillion, up to 63% higher than this year's target.
Other objectives include the total deposits of VND130 trillion, increasing by 34%, total outstanding loans of VND82 trillion, up 40-45%, raising the charter capital to VND9.8 trillion from current VND6.7 trillion, according to chairman Thanh. He added next year's dividend rate was expected to be 14-16%.
All the targets will be discussed and finalized at a shareholder meeting early next year.
Mr. Thanh said in the last decade and the next one, Sacombank shares were and would be suitable for long-term investments.
Sacombank, or Saigon Thuong Tin Commercial Joint-Stock Bank, plans to build an office in Cambodia's Phnom Penh in 2010 to further facilitate its operations in that country and neighboring Laos. Mr. Thanh said if things go smoothly, his group would set up subsidiary banks in 2010 in Cambodia and Laos.
Outside Vietnam, the bank is operating a representative office in China, and a branch in Cambodia and Laos each.