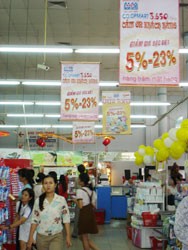 A Sai Gon Co-op supermarket in promotional month.
The Saigon Co-op, one of the Viet Nam's leading retailers, has just been awarded the 2008 European Quality Prize, recognizing successes in management, quality, development, customer service and the prestige of the company.
Nominations were discussed in big cities around the world, like London, Paris, Geneva, Frankfurt, Madrid and New York in October. Awards were given to organizations in the following categories: Large Organizations and Business Units, Operating Units of Companies, Public Sector Organizations.
Saigon Co-op was established in 1989 on the basis of the HCM City trading collective management board with the idea of two important functions: carrying out direct business and campaigning collective movements in the city.
The Saigon Co-op first supermarket was opened in 1996 and became the first supermarket in Viet Nam. Saigon Co-op has received national and international prizes and is one of the leading retailers in the country.
European Quality Prizes are awarded each year by the EFQM. Recipients are organisations that have applied for but not yet won the European Quality Award. The application was of such a high standard that the European Quality Prize is an honour to receive.