Saigon Co.op Mart announced on April 8 that it would mark its 15th anniversary with a huge discount offer on 1, 500 items in coordination with 350 enterprises.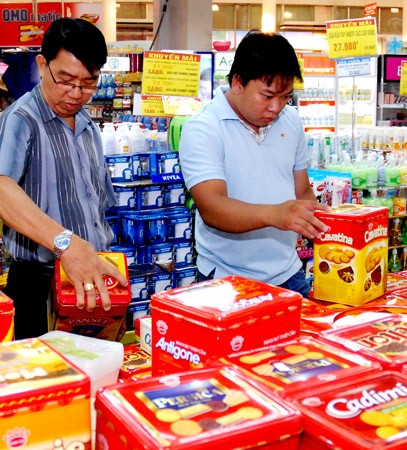 Customers at Co.op Mart in Ho Chi Minh City. (Photo:SGGP)
Discount sales on 1,500 items will see prices slashed by 5% - 50% on items like fresh food, processed food, clothing and household goods.
Prices of Co.op Mart home brand products will be discounted by 5%- 30%. Home brand products are produced in factories that meet the quality standards as per government regulations. Co.op Mart is committed to supplying customers with quality goods.
Co.op Mart will also send 100 mobile vans to transport essential goods to remote areas, industrial zones and export processing zones in order to help workers and the poor to avail of their discount products.
It will also offer 15,000 gift vouchers to workers and the poor, worth a total VND1.5billion (US$75,000) besides other discount offers.
This 15th anniversary discount program worth VND40billion will start on April 16 and last until April 30.