The Saigon Shipbuilding and Maritime Industry Company (Saigon Shipmarin) will build its first two 6,500-ton ships for export.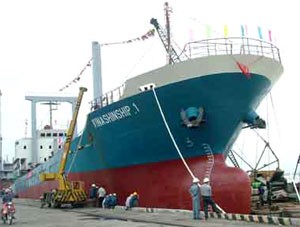 A ship built by Vinashin
According to the contract just signed between the Saigon Shipmarin under the Viet Nam Shipbuilding Industry Corporation (Vinashin) and Kanematsu Corporation of Japan, the first ship will be delivered to Kanematsu Corp. in March 2007, and the second in July 2007.

The Saigon Shipmarin has invested over VND300 billion (US$18.75 million) to enlarge production, train technical workers, improve capabilities of building and repairing 10,000 – 12,500 ton-tonnage ships.

The company is also building two new 6,800-ton ships for Saigon Marine Service and Trading Company (Satraser).