Average salaries in Viet Nam have grown 19.5%, a five-year record high, says a survey released a few days ago by Navigos Group.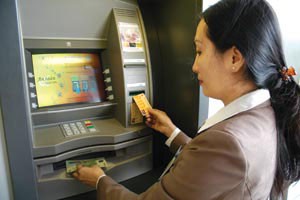 An employee receives salary via ATM
The leading recruiting and integrated human resource solutions provider in the nation said its 2008 Viet Nam Salary Survey was based on the analysis of data gathered from more than 180 companies representing 15 major industries from April 2007 to March 2008.
The major industries include manufacturing, finance, information technology, fast moving consumer goods, construction, and engineering, hospitality and tourism, pharmaceutical, and chemical.
The report says salaries increased by 9% and 12.6% in 2006 and 2007, respectively.
Also according to the survey, employers have adjusted employees' salaries more often than before – two or three times per year on average. The main purpose is to keep staff and help them deal with high inflation.