Saigon Railway Passenger Transport Company Monday began the online sales of train tickets for the Tet holidays, in next February. Several people in Ho Chi Minh City lamented they spent the whole morning but still failed to buy tickets.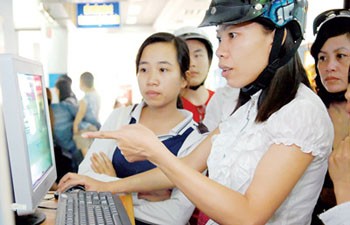 A lot of people fail to buy online train tickets for the Tet holidays in HCMC on November 15, the fist day of the service (Photo: SGGP)
Since 7am, internet shops near universities and industrial zones were full with customers who came to book tickets on www.vetau.com.vn. At 8am, when the sales began, several people couldn't  access the website as it continuously appeared as "Service unavailable."
Le Thanh Tai from District 12 said that he had been online for four hours but still failed to buy a ticket to Vinh City because the internet was continuously congested or ran slowly.
Pham Minh Tri, worker of Vinh Loc Industrial Zone in Binh Tan District, said he asked for a morning off to buy Tet ticket and just saw a red word line "Fail to seek for the date source" while he tried to access the website.
Several others also said they wasted the whole morning but couldn't buy tickets as the website was continuously congested. The same condition was reported by those who accessed internet at homes and Saigon Railway Station.
According to the Saigon Railway Passenger Transport Company, at 8am when the online ticket service began, the number of people accessing the website was nearly 33,000. As of 9am, only 433 people successfully booked the tickets due to the internet congestion.
The condition was just improved in the day's afternoon with the number of people successfully buying the tickets rocketed to 15,280. With the booking rate like that, 100,000 Tet tickets would be sold out in the next two to three days, as on the company's schedule.
Vietnam Railways Corporation said that in spite of the internet congestion, the number of train tickets sold through internet as of 5am on Monday was 20,000, accounted for one third of the total online tickets.