"Sales promotion month" program will be hold in March and September 2006. Nearly 4,000 businesses will take part in the program almost all commodities discount from 10% to 70%.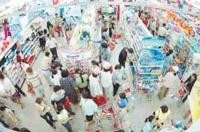 Shopping at Co-opmart (Photo:SGGP)
According to Mr Do Xuan Ha, deputy Director of Trade Department of Ho Chi Minh City, if the first "Sales Promotion Month" program was limited with 200 businesses and the commodities only discounted at least 7% in September 2005, the second in 2006 will be the larger promotion plan.
Nearly 4,000 businesses will participate in this program, among whom there are about 1000 tourist companies. Most big companies, distributors, supermarkets and trade centers are present at "Sales Promotion Month 2006". The program will be carried out at 41 favorite shopping places, hotels and standard tourism shops in Ho Chi Minh City.
Almost all commodities ought to be discounted from 10% to 70%. The price must be put up clearly. Forms of promotion are diversified and attractive.  Businesses will be advertised on main streets, means of public communication, banderols, and brochures. This program will be also advertised on flights, international hotels, websites of departments, offices in Ho Chi Minh City and other provinces.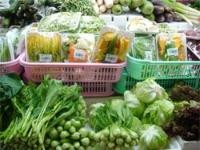 Fresh vegetable in supermarket(Photo:Van Hanh)
Besides, authorities of Ho Chi Minh City asks Saigon Co-op and members of Saigon Trade General Company to organize the days of mobile -sales in remote areas, in other that more city people can do their shopping. 
According to Mr Nguyen Huu Tin, deputy chairman of Ho Chi Minh City People's Committee, March and September are chosen because they are the year's low shopping seasons. "Sales promotion month" will promote the market's activities better.
With the first "Sales promotion month" program in September 2005, although price kept rising , the city's retail volume and service turn over increased more  than 22.3% year on year.
It is a chance for people to buy high quality commodity at low prices, and with more benefits. This is an occasion for businesses and producers to advertise and promote their products to consumers effectively.