Salt farmers and traders around the country say they are suffering because of modest salt output due to unusual weather and the continual falling of salt prices over the last month.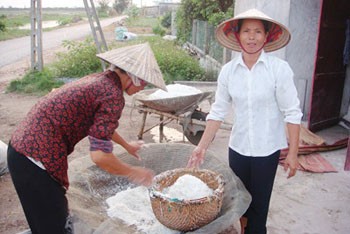 Unable to sell their salt, many traders in Nam Dinh Province's Giao Thuy District have suffered major financial losses (Photo: SGGP)
Thuy, a salt farmer in the largest salt producing area of the northern region, Nam Dinh Province, said that it was difficult for salt to form with the storms and tropical low-pressure zones which have continuously plagued the region since the beginning of the year.
Salt output on each 360-square-meter field has reduced by nearly half with farmers able to collect only about 20 kilograms of dried salt.
Farmers work hard all day just to earn VND20,000-30,000, said another farmer named Hanh.
From Quat Lam tourist site to Giao Thuy District, hundreds of salt warehouses over the last few months saw numerous farmers selling their salt to traders. Now, 80 percent of them have closed their doors.
Salt prices plunge
Nguyen Thi Chien, a trader in Giao Phong Commune said salt prices have sunk from VND2,000 at the beginning of the year to just VND900 per kilogram now. Despite the lowered prices, farmers as well as traders are unable to find customers.
Most salt businesses in the district blame salt import policies by the Ministries of Industry and Trade, and Agriculture and Rural Development for the problem.
Mr. Tam, another salt trader in the commune's Bach Long Salt Cooperative, said most businesses refuse to buy his salt because the price of salt imported from India with a higher salinity is VND400-600 lower than Vietnamese salt.
Many salt producing areas in the central and southern regions are facing the same situation.
Explaining why companies have been allowed to import salt, the ministries said domestic salt output this year meets only around 40 percent of demand with 670,000 tons so far. This accounts for just 86 percent of last year's output during the same period despite production areas being expanded by 16 percent to 14,500 hectares.
The total volume of salt Vietnam will need to import this year may reach 500,000 tons, they said.
Many businesses have rushed to import too much salt, farmers say, creating problems for the farmers.
Many traders in Nam Dinh report suffering tens to hundreds of millions of dong in losses because of unsold salt that they bought and have stocked since January, believing that prices would skyrocket at the end of the year.
Related article:
Untimely rains leave central salt makers in a pickle