Vietnamese Prime Minister Nguyen Tan Dung attended the inaugural ceremony of a Samsung mobile phone factory, worth about US$700 million, in the northern province of Bac Ninh on October 28.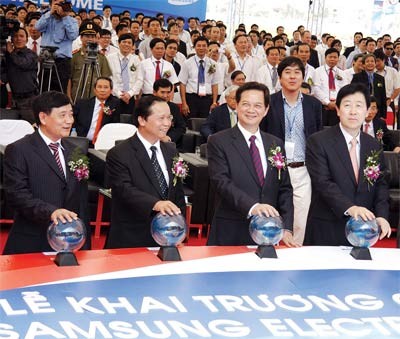 Samsung Electronics president Choi Gee Sung (1st, R) and Prime Minister Nguyen Tan Dung (2nd, R) co-launch the Samsung mobile phone plant on October 28 (Photo: SGGP)
The facility is located on an area of 50 hectares at the Yen Phong Industrial Zone, in Yen Phong District. It was designed to have an annual capacity of 100 million units by 2012, and its products will be supplied to both Vietnamese and international markets.

After receiving a license in March 2008, Samsung Electronics Vietnam Co. Ltd. (SEV) put a mobile phone assembling plant into operation in April 2009, and established a plant for making and painting mobile phone cases in August 2009.

The new facility is among seven factories built by the Samsung group using the world's most advanced technology and closed production lines, and the first world-class mobile phone factory of Samsung in Vietnam.

SEV currently employs more than 2,000 laborers and will require an additional 10,000 workers in the future.
Speaking at the ceremony, PM Dung said investment cooperation between Vietnam and South Korea has been steadily improving with the participation of many economic groups including Samsung.

The PM hoped that in addition to direct contributions to the socio-economic development of Bac Ninh and neighboring areas, the factory would attract more investment in the country from Samsung's global suppliers.

Vietnam will become a world leader of mobile phone production in the future, he said, and the Government will continue creating favorable conditions for the Samsung Electronics Vietnam Co. to develop further.

President of the Samsung Electronics Company Choi Gee Sung said, "Samsung is the world's second-largest mobile handset maker and it has set an ambitious target to become the leader. We hope the factory in Vietnam will make great contributions to help raise its position to the top."

SEV has 17 suppliers that have already invested in Bac Ninh, of which six companies have already started supplying it.

The company expects to export products to Australia and Europe, and estimates annual export revenues of US$4.5 billion in 2010, making Samsung the top exporter in Vietnam.