South Korean electronics conglomerate Samsung broke ground on its $1.4 billion Samsung Consumer Electronics Complex at the Saigon Hi-Tech Park, Ho Chi Minh City's tech hub.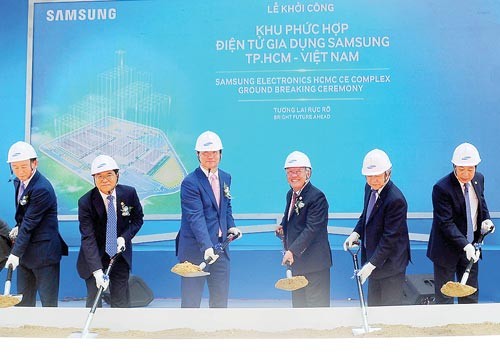 At the ground breaking ceremony (Photo: SGGP)
Vietnamese Minister of Science and Technology Nguyen Quan that South Korea is the nation which has the most FDI investment plan in the country, in which Samsung invested US$13 billion in industrial parks in the northern provinces of Bac Ninh, Thai Nguyen and HCMC.

Samsung is seeking permission to increase its investment at the Bac Ninh display plant to $3 billion bringing Samsung's investment in Vietnam to US$15 billion.
The South Korean electronics conglomerate's project in HCMC locating in the area of 70 hectare is expected to produce 20 million products a year including electricity household appliances, digital television and printer.
The first stage is expected to operate in 2016 focusing on researches and producing high-end TV products such as SUHD TV, Smart TV and LED TV. It plans to recruit 5,000 skilled workers.

Speaking at the event, Le Hoang Quan, chairman of the city People's Committee said that the city administrators pay attention to attracting mroe high-tech projects and research centers/ currently, the city has over 5,000 FDI projects with investment of US$3.7 billion. Apart from that, South Korean investors registered 1,078 projects with total investment of US$3.6 billion.
Since 1995 when it initially invested in Vietnam, Samsung has operated seven projects worth totally US$11.3 billion in the Southeast Asian country.
The two biggest of the Samsung complexes are one in Bac Ninh province and another in Thai Nguyen province into which the company has so far channeled US$2.5 billion and US$5 billion, respectively.
Other major Samsung projects in Vietnam include a US$1 billion screen-making plant in Bac Ninh province and a $1.23 billion facility that produces high density interconnect (HDI) boards in Thai Nguyen province