TOKYO (AFP) -- Japan's Sanyo Electric Co. said Friday its subsidiary in Viet Nam will build a new plant and hire up to 12,000 workers as it steps up production of optical pickups for DVD recorders and other devices.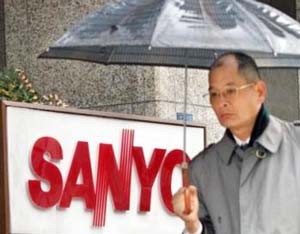 Sanyo has undergone a massive overhaul in recent years (Photo: AFP)
Construction of the factory in Bac Giang Province will begin in September, with operations expected to start in April next year, a company statement said.

"We expect the total investment in the new firm to be around 95 million US dollars," said a spokeswoman for Sanyo, which already produces optical pickups in Japan, China and Indonesia.

The new firm operating the plant will have capital of 10 million dollars, Sanyo said, adding that sales are expected to reach 300 million dollars for 2012.

"With the growth of the developing markets such as China and with the widespread use of next generation DVDs, Sanyo will gear up to expand share in the ever-growing optical pickup business," it said.

The new firm will be wholly controlled by Shenzhen Sanyo Huaqiang Optical Technology Co. of China, which is 60 percent owned by Sanyo, with the remaining 40 percent held by its Chinese partner.

Sanyo has slashed thousands of jobs and sold non-core operations as part of a massive overhaul in recent years, while increasing its focus on rechargeable batteries and environment-friendly technology.

The restructuring appears to be paying off, with Sanyo reporting in May its first annual net profit in four years.