During the ongoing Ho Chi Minh City Expo 2011 in Phnom Penh, Cambodia, Nguyen Thi Hong, the city People's Committee vice chairperson attended the inauguration ceremony of the first Satra Supermarket yesterday.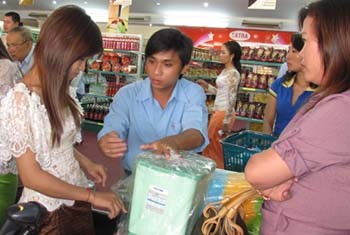 Cambodian customers at Satra Supermarket in Phnom Penh on April 7 (Photo: SGGP)
The Satra Supermarket, of the Saigon Trading Corporation, is the first supermarket initiative by HCMC enterprises to open in the neighboring country.
The 2,000 square meter supermarket, located at 154 Chaychumnas Ward in DuanPenh District, will sell over 2,000 Vietnamese high-quality commodities including chemical and cosmetic items, processed foods, household plastic goods and clothing.
The supermarket management has plans to increase the number of commodities to 5,000, making it the main center for the supply and distribution of HCMC goods for both the retail and wholesale markets in Cambodia.
On this occasion, Ms. Hong also met with the management of two Vietnamese banks operating in Phnom Penh, the Bank for Investment and Development of Cambodia (BIDC) and the Saigon Thuong Tin Commercial Joint Stock Bank.
Ms. Hong expressed her appreciation of the efforts made by the banks in providing excellent service and for creating a favorable environment for Vietnamese exporters in Cambodia.
Related article:
HCMC Expo 2011 opens in Cambodia