The State Bank of Vietnam (SBV) will issue measures to cool the gold market, which has been highly volatile this year, governor Nguyen Van Binh says at a conference on Tuesday.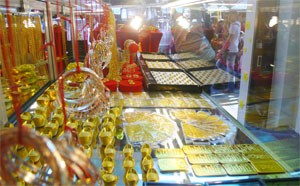 Vietnam's gold is traded at more than VND1 million per tael higher than the global price (Photo: Phan Hien)
To stabilize local gold price, the state bank will give green light to gold import with "necessary amounts", Binh says.
The state bank will also design appropriate mechanisms that enable credit institutes to "initially use the available amount of gold" to cool local market, he says.
Binh says the state bank earlier approved an import quota of five tons of gold this year.

Statistics show three tons of gold have been imported so far
The state bank has finished setting up a decree on supervising gold trading, which is set to submit to the government next month, the governor says at the conference.
Under the decree, the state bank will be in charge of either granting license to produce gold bars or becoming a gold producer.
The state bank will also allow some enterprises and credit institutes, which are experienced gold traders, to trade gold bars in an effort to closely supervise domestic gold trading.
Figures from the central bank show there are around 300-500 tons of gold trading on the local market.
Banks earlier hold more than half of the amount as they were allowed to mobilize, loan and convert gold into dong amid the surging price of the precious metal.
The state bank then gradually stopped lenders' gold loans, which carried high risk of losses.
Yet the ban is still inadequate, Binh says.
"If we just allow lenders to mobilize gold and ban them from loaning out, it will be a waste and they will definitely find some illegal ways to trade the gold deposits," he says.
The state bank plans to encourage residents to deposit their gold into lenders, Binh says.
He expects that the amount raised from individuals can reach to around 130 tons worth $10 billion - an equivalent of the amount that has been deposited by individuals earlier.
Vietnam's gold is fluctuating wildly on the soaring global price, Binh says at the conference on Tuesday.
"Precious metal on the local market is mainly imported from abroad as Vietnam has no big gold mine," Binh says.
"Therefore the state bank will manage to keep domestic gold catching up with the international price with an appropriate trading band."
The governor warns that a large band will cause a strong speculation on the yellow metal. He also notices, to curb speculation, the domestic price should only be higher than the global one by VND400,000 per tael (US$20) or less.
One tael is equivalent to 37.5 grams or 1.21 troy ounce.
Gold in Hong Kong on Tuesday moved up to $1,916 per ounce before retreating to close at $1,877 per ounce as investors consider the precious metal as safe haven during the economic meltdown.
On the same day, gold at retail shops in Ho Chi Minh City rose by VND450,000 to VND49 million per tael – higher than the international price by more than VND1 million per tael.