The Vietnam Association of Seafood Exporters and Producers (Vasep) reported that seafood export has been reducing for the last ten months and unlikely to recover this year.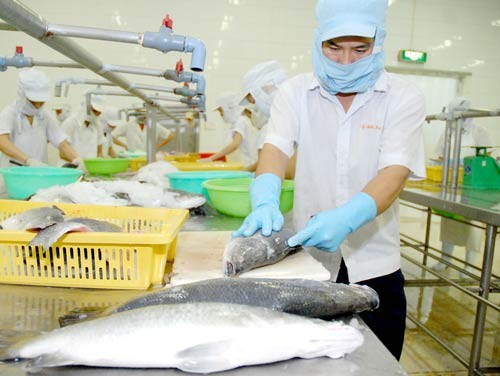 Fish processing for export at APT Company (Photo: SGGP)
Slow consumption, down export price and the depreciation of many foreign currencies against U.S. dollar have strongly impacted export of Vietnamese seafood, especially shrimp.
Total turnover reached US$4.8 billion in the first nine months this year, down 16.4 percent over the same period last year. Shrimp saw a reduction of 27-30 percent.
The reduction trend did not end to all main export items in October. Total export turnover in the first ten months was estimated at US$604 million, a year on year decrease of 12 percent.
Of these, shrimp fell down 33 percent, pangasius fish tumbled 30 percent, tuna dropped 11 percent, cuttlefish and octopus reduced 28 percent.
The association forecast slight increase in the rest two months this year compared to the first ten months. However, it will still be 20-25 percent lower than the same period last year.
The turnover is expected to hit US$6.6 billion for the whole year, down 15 percent over 2014.