Seafood export turnover has reached US$6.72 billion as of December, down 14.3 percent over 2014 and 10.4 percent compared to the target set for 2015, reported deputy head of the Directorate of Fisheries Nguyen Thi Thu Nguyet.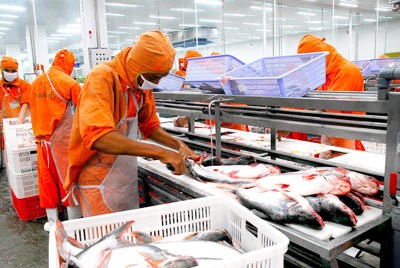 Workers processing tra fish at Cafetex company (Photo: SGGP)
According to Minister of Agriculture and Rural Development Cao Duc Phat, despite of facing difficulties this year, the seafood industry has still remained stable growth rate in the phase of 2011-2015.
Total seafood output increased 3.8 percent a year, 9.3 percent higher than the five year period's plan. Of these, fishing output hiked 4.7 percent and farming output raised 3 percent.
Export turnover moved up an average of 2.4 percent a year.
The ministry has set its targets of 6.4 million tons of seafood output and US$7.6 billion of export turnover next year.
Minister Cao Duc Phat instructed the seafood industry to speed up restructuring towards sustainability and quality development.