Drought and salt intrusion has worsened and damaged a large shrimp farming area in the Mekong Delta since the beginning of this year, causing material shortage for export processing plants.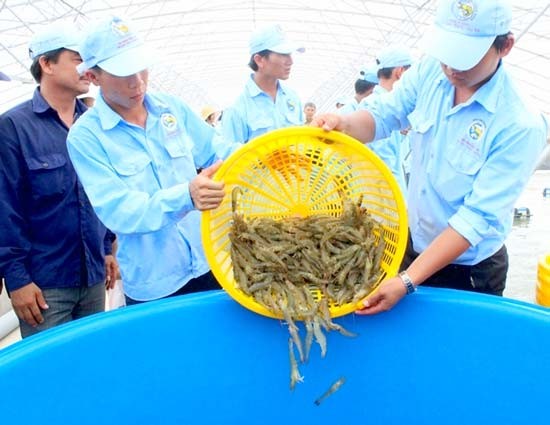 Drought, salinity has badly hit shrimp farming in the Mekong Delta (Photo: SGGP)
Shrimp breeders have suffered spreading mass mortality in coastal provinces such as Ben Tre , Tra Vinh, Soc Trang and Kien Giang.
They have farmed 300 out of 910 hectares of shrimp ponds but 25 percent of the area has been damaged because of weather illnesses in My Long Nam commune, according to Mr. Nguyen Van Dai, deputy chairman of the communal People's Committee, Cau Ngang district, Tra Vinh province.
 
Mr. Tran Quang Cui, deputy director of the Agriculture and Rural Development Department in Kien Giang province, said that salinity has reached 30‰ in many places, exceeding the permissible level for shrimp farming.
 
Therefore, the department has advised farmers to stop breeding at this time and wait until there will be rain to ease the salinity.
 
Export businesses said that shrimp farming has reduced resulting output shortage since early this year. Despite paying high prices, processing plants have found it difficult to buy sufficient materials.
 
Shrimp output was unlikely to meet export demand this year, said Mr. Ngo Thanh Linh, secretary general of the Seafood Export and Processing Association in Ca Mau province.
 
Local processing plants are forecast to operate at 50-60 percent of their capacity only, making the province unlikely to obtain its target of US$1.2 billion export turnover this year.
 
High salinity has also killed vast oyster farming areas in the delta.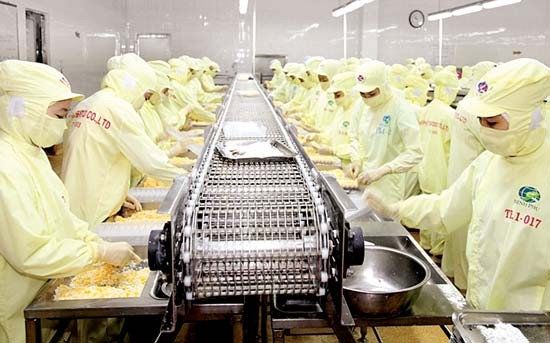 A seafood processing plant in the Mekong Delta (Photo: SGGP)
According to the Ministry of Agriculture and Rural Development, seafood export turnover neared US$1.1 billion in the first two months this year, up 8.2 percent over the same period last year.
 
However the seafood industry will have to overcome many difficulties in the upcoming time including the severer drought and salt penetration to obtain the year's target of US$7.12 billion export turnover.
 
Minister Cao Duc Phat has asked the Directorate of Fisheries and local authorities in the Mekong Delta to step up measures to minimize seafood damage by drought and salt intrusion.