Drought and salinity are plaguing the Mekong delta badly affecting aquatic breeding. At present, the price of shrimp and fish is escalating, yet there has been a shortage of aquatic products; subsequently, companies fretted the shortage of fish and shrimp will affect on export.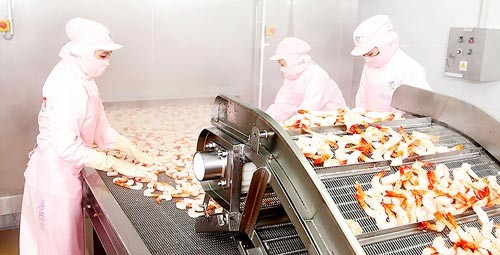 Shrimp processing for export (Photo: SGGP)
The Vietnam Association of Seafood Exporters and Producers (VASEP) said, after a long difficult time in exporting, seafood export in the first three months of this year reached US$1.4 billion, an increase of 9 percent compared to the same period last year.
Moreover, Vietnamese seafood export increased in major markets including the US with a hike of 21 percent; China with 33 percent and Asian countries with 22 percent.
Chairman of VASEP Ngo Van Ich said that the export of two major products including shrimp and tra fish gradually leaped with turnover of US$600 million and of US$358 million respectively in first quarter.

Yet there have been still challenges. Chairman of Hung Vuong Aquatic Company said that there is a severe shortage of tra fish as breeders hesitated to invest in more for past time because the price dropped and banks refused loans from fish breeders.

The departments of agriculture and rural development in Mekong delta worried because the weather is unfavorable for breeding and drought and salinity caused shrimp to die en mass.

VASEP general secretary Truong Dinh Hoe said that to achieve the target of US$7 billion for aquatic export in 2016, the sector must make concerted efforts to overcome many challenges and difficulties.
Shrimp export is facing tough competition and expenditure for breeding of shrimp is so high in Vietnam as the cost of aquatic breeding in the Southeast Asian country is higher than others.

As per an estimation, shrimp production costs in Vietnam are two time higher than India and the feed cost in breeding of shrimp in the Southeast Asian country is 40 percent higher than other countries averagely.  Worse, the success rate of shrimp breeding in Vietnam is around 33 – 35 percent because of polluted environment and diseases.
Accordingly the price of Vietnamese shrimp is US$1-3 higher than others causing difficulties in competition.

For tra fish export, it will be very difficult for Vietnamese enterprises to sell their catfish to the U.S. at competitive prices considering the newly-imposed anti-dumping duties. The U.S. Department of Commerce on anti-dumping duty during the latest review, the POR11, tax rates for Vietnamese seafood will be of $0.69 per kg, the VASEP said.