Exports by seafood companies have shown lower profits due to high production costs.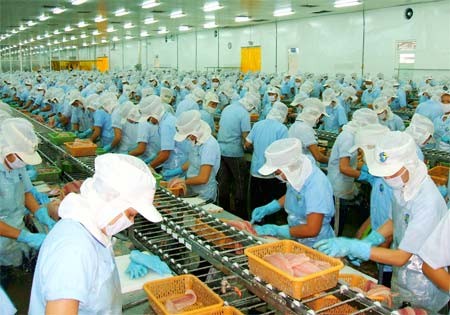 Workers process catfish for export at a factory in the Mekong Delta province of An Giang (Photo: SGGP)
According to the Ministry of Agriculture and Rural Development, seafood export revenues in the first quarter of 2011 reached US$1.1 billion, a year-on-year rise of 22 percent. Though revenues increased, exporters did not register profits due to high costs of basic materials and production.
 
Nguyen Duy Nhut, deputy general director of Nam Viet Joint Stock Company in the Mekong Delta province of An Giang, said the company earned over VND300 billion from seafood exports in the past three months, but still showed no profits.
 
He attributed this to high costs of basic material, power, fuel and packaging as well as high lending interest rates. Export prices have also increased though not as much as compared to basic costs, he added.
 
Though the company's business has not been effective, it has still made every effort to boost production to maintain relations with importers and support jobs for over 3,000 workers, Mr. Nhut said.
 
Nguyen Van Dao, director of Go Dang Seafood Joint Stock Company, said the company sales had risen by 15 percent since early this year and the export market has been rather stable with a tendency to increase. However, the company has only shown a marginal profit growth.
 
The director of Minh Hai Seafood JS Company said the company earned US$13 million from shrimp exports in the first quarter of this year, up by 40 percent over the same period of last year.
 
He said, though the profit was not much, the company would maintain relations with importers, expanded export markets and continue to support the lives of over 2,000 workers.
 
According to the Ca Mau Association of Seafood Exporters and Producers, shrimp exporters faced difficulties during the last three months but they still tried to boost exports and netted total revenue of US$155 million.
 
Tran Thien Hai, Chairman of the Vietnam Association of Seafood Exporters and Producers (VASEP), said high costs have increased the pressure on seafood enterprises.
 
Seafood export is one sector that has brought a huge amount of foreign currency into the country and created jobs for many farmers. Hence, the main target now is not to insist on profit but to boost production and exports to contribute towards stabilizing social welfare, he added.
 
VASEP has hiked prices of tra catfish exported to the US to US$4 from US$3.8 per kilogram and to Europe to US$3.4 from US$3.2 per kilogram. Prices of shrimps exported to the US and Europe have however remained at US$10-11.75 per kilogram.
 
At present, the biggest difficulty facing enterprises is a shortage of seafood material. Seafood factories are operating at only 40-50 percent of their capacity.
 
Duong Nghia Quoc, director of the Dong Thap Province Agriculture and Rural Development Department, said seafood companies and farmers have failed to develop breeding farms because of escalating prices of feed and lending interest rates and limitations in getting loans.
 
Ly Van Thuan, general secretary of the Ca Mau association, said Ca Mau Province will develop large-scale areas specializing in breeding shrimps to ensure stable supplies of shrimps for export all year round.
 
He said the province would not build new factories by 2015, but focus on equipping state-of-the-art machinery to reduce fuel costs and increase production capacity.
 
Ca Mau will also boost breeding and exporting of squid, fish and octopus besides shrimps, to increase profits and jobs by the end of this year.