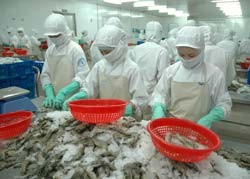 Quality of Viet Nam's seafood meets the EU markets' demands. (Photo: SGGP)
Viet Nam's Ministry of Fisheries reported that the whole country exported 41,900 tons of seafood in the first month of 2006. The export turnover was US$190.5 million, increasing 31.74% year-on-year, reaching 6.8% of the export plan of the whole year. The ministry asserted this is the biggest growth in the last four years. 
According to the ministry's forecast, the demand in Japan, EU, the USA and Belgium for Viet Nam's seafood will continue to increase to the end of this year. 
At present, the ministry is urgently giving direction on speeding up seafood exports from now on. The ministry asks local enterprises to manage quality and hygiene safety of seafood at all phases, to prevent injecting impurities into raw materials, to guarantee prestige in exported products, especially to soon overcome the shortage of raw materials and breeding shrimp for the new crop. This aims to early complete the 2006 seafood export plan.