The Vietnamese Association of Seafood Exporters and Processors (VASEP) said the country's seafood export revenue this year may exceed a US $3.6 billion target while domestic firms are scrambling to meet skyrocketing demands for Christmas and the New Year.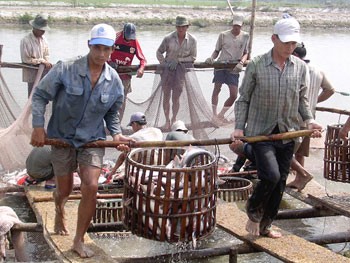 Farmers harvest catfish in Southern Viet Nam.
Assistant Professor Doctor Nguyen Huu Dung, deputy chairman of VASEP, said if all goes well this month, we can surpass that figure.
Deputy Minister of Agriculture Luong Le Phuong said major markets like the US, EU, China, and the Republic of Korea look promising.
The Ministry of Agriculture and Rural Development said Vietnamese seafood companies exported $380 million last month alone while export revenues in the first 9 months have risen to $2.7 billion, a 14 percent annual increase.
The southernmost province, Ca Mau, is striving to export $200-210 million worth of seafood during the last 3 months of this year, said Mr. Le Van Thuan, general secretary of the provincial Export and Processing Seafood Association.
The southern Kien Giang province has this year sold over $62 million in seafood exports and is aiming at a $100 million target for the year, Mr. Huynh Van Ganh, director of the local fisheries department, revealed.
Catfish exports in An Giang province, also in the south, have this year risen 62 percent in volume and 60 percent in value against last year's corresponding figures.
This year, 120,000 tons of catfish are expected to be exported, earning $320 million, said Mr. Nguyen Van Thanh, director of An Giang fisheries department.
Catfish markets have expanded to 75 countries and territories, Mr. Thanh added.
The VASEP vice chairman Dung said the country's catfish export value has this year risen by over 40 percent year-on-year, which is an "ideal figure" and will help catfish exports reach $1 billion, if nothing changes.
Challenges
A major challenge is the lack of raw materials for Vietnamese processing factories.
Due to this shortage, 27 factories in Ca Mau are only working at 50 or 60 percent of their capacity, and in central and northern regions, this figure is even lower, 40 percent at most, VASEP said.
VASEP attributed this to many new factories emerging across Viet Nam while fishponds have not been developing accordingly. Experts have suggested importing more raw materials for seafood processing and not depending so heavily on domestic supplies.
Food safety is another challenge.
Deputy Minister Phuong said technical barriers are becoming more demanding with stricter inspections and higher standards.
An inspection of Vietnamese seafood processors made by the European Commission of Health and Consumer Protection from September to October concluded that though some processors meet EU regulations on seafood exports, hygienic conditions at some are not satisfactory.
Seafood exports are expected to reach $4 billion in 2010 as targeted by the agriculture ministry; however, the government hopes to meet that target by 2008, two years earlier than originally projected.