The Vietnam Association of Seafood Exporters and Producers (VASEP) predicts the seafood export value will exceed 8 billion USD in 2015 .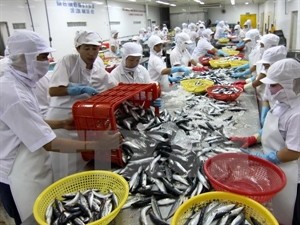 Seafood processing (Photo: VNA)
The VASEP revealed that the country exported aquatic products to 166 markets worldwide in 2014, earning 7.84 billion USD and increasing by 16.5 percent from 2013.
Nearly all key seafood products experienced stable growth over the year, especially shrimp exports with a 27 percent surge due to increased global demand for the commodity.
The country's total shrimp export revenue in 2014 reached 3.95 billion USD. White-leg shrimp exports hit 2.3 billion USD, while black tiger shrimp netting 1.4 billion USD, increasing 46 percent and 4 percent over the previous year, respectively.-VNA