The Vietnam Association of Seafood Exporters and Producers (VASEP) estimates that with the current difficulties in the seafood export industry, such as material and capital shortage, their earlier target of US$6.5 billion annual turnover will not be met but will touch only $6.1 billion this year.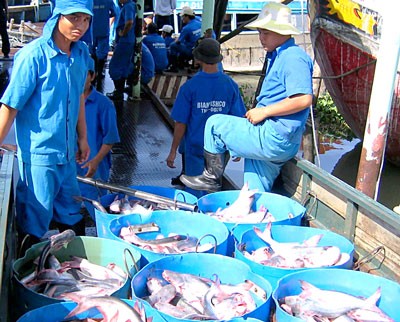 Farmers harvest pangasius fish for export in the Mekong Delta (Photo: SGGP)
According to VASEP, the nation's seafood export revenue hit $5 billion in the first ten months of the year, a 1.7 percent year-on-year increase.
Although the seafood exports have increased, the industry turnover just fetched $6.2 billion, while the goal was set for $6.5 billion, due to obstacles currently troubling the sector.

Shrimp export turnover was about $2.2 billion, a year-on-year decrease of 8.3 percent while pangasius fish fetched $1.8 billion, the same as last year. Other seafood reached $2.2 billion, an increase by 19 percent compared to last year.

However, the Ministry of Industry and Trade is concerned that the two main exports of shrimp and pangasius are in a slump in the third quarter of 2012.
In the third quarter of this year, shrimp exports fetched $610 million, a decrease of 15 percent compared to that in 2011 and pangasius exports fetched $438 million, a 10 percent year-on-year decrease.

Due to difficulties such as material and capital shortage, more investment and slow consumption in markets, exporters cannot yield the expected turnover. Vietnam's unstable traditional markets such as the EU countries, Japan and the US are facing an economic downturn. Besides, food safety barriers are often difficult to overcome.

The ministry said that competition in seafood exports across the globe is becoming fierce and Thailand and Indonesia are offering a lower price for shrimps, creating pressure on Vietnamese seafood exporters. For pangasius, Thailand and other countries are pouring more money to compete with Vietnam's fish export.

Nguyen Van Dao, general manager of Go Dang Exports, is concerned as this time in previous years importers placed many orders for Noel and New Year Holiday season. However, this year very few orders were placed and at lower price.  Currently pangasius fillet in the EU country market fetches $2.6 per kilogram with which enterprises and fish farmers do not make any profits.

In the Mekong Delta province of Ca Mau, which has the most farm land for shrimps and exports the most in the country, there should be more orders for year end to reach the set goal of $1 billion in 2012. Seafood exports is one of the province's chief economic sectors, said the People's Committee.

Duong Tien Dung, deputy chairman of People's Committee, said the local government has supported enterprises by seeking markets, giving loans at preferential interest rates and facilitating all paperwork to increase turnover for seafood exports for year end.

Ho Viet Hiep, deputy chairman of People's Committee says that in the Mekong Delta province of An Giang, seafood export is also one of the province's most important key economies. This year fish breeders and enterprises are all facing difficulties and hence the local government is trying its best to help raise exports in the last two months of the year as a decrease in seafood exports will lead to a decrease in the province's economy.

The ministry said that to achieve the target of $7.5 billion in turnover in 2015 and $10 billion in 2020 to help farmers in rural areas increase their income, the sector needs to invest more and re-arrange its structure.
The sector should build its own brand name in the world markets and keep its important markets like the US, the EU and Japan as well as enhance exports into potential markets like China, Korea, the Middle East, Eastern Europe, Africa and South America.