This year, Vietnam's seafood industry is able to achieve export target of US$4.5 billion, however, it still is facing a raw material shortage.
Seafood industry cramped by material shortage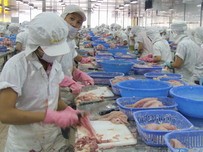 Workers process tra fish at a factory in the southern province of An Giang.
The shrimp and tra fish prices have been skyrocketing, while processing factories cannot purchase enough materials and run just 50% of capacity.
Meanwhile, the country's shrimp and tra fish export have been increasing, but its shrimp and tra fish output is not increasing accordingly.
According to Nguyen Xuan Nam, general director of Hai Vuong Co.Ltd, flooding in central in May and June caused a decline shrimp and tra fish output. Many processing factories had to import material to maintain their operations and jobs for over 2,000 workers, he added.
Processing factories in the central region are operating 30-40% capacity due to material shortage.
Supply has also dropped because many fishermen are reluctant to go fishing offshore. Natural disasters such as typhoons and floods often occurring in Central Vietnam also largely affect seafood export.
According to Vietnam Association of Seafood Exporters and Producers (VASEP), exploited seafood output will face difficulties to achieve 2.1 million tons per year in next years.
In past years, many factories had to import material around 140,000 – 150,000 tons of seafood of different kinds each year, worth $300-320 million.
Japan is the biggest export market for Vietnam, however, Vietnam also has to import material from Japan.
VASEP said that if seafood industry just replies on domestic material, seafood export is able to achieve maximum $4 billion per year only.
Seafood processing factories need to import around 650,000 tons of material in next years, an increase of four times compare to 2010.
To increase seafood export turnover by 2020, factories need to import $2 billion of seafood material.
Reduce tariff on seafood material
Many Vietnamese seafood exporters have recently voiced their concern about the shortage of seafood materials for domestic processing, and asked the Government to reduce the import tariff on seafood materials to zero percent in order to help domestic processors.
At a seminar on seafood development strategy until 2020, Nguyen Van Kich, general director of Cafatex Joint Stock Company in Hau Giang Province said many seafood processing factories just run at 50-70 percent of capacity due to material shortage and import tariff on material at high level.
China, Thailand, India and Malaysia are the biggest seafood export countries and the biggest seafood importer as well reduced import tariff on seafood material from 0-5 percent. Therefore, Vietnam needs to consider reducing import tariff on seafood material to maintain export growth from 8-10 percent per year, Mr. Kich said.
VASEP has asked the Government to consider cutting the import tariff to zero percent, the tax levels which are being applied in many countries in the region. Besides, the association has also asked the Ministry of Agriculture and Rural Development and other relevant agencies to create the most favourable conditions for the seafood material import by easing administration procedures.